Pamela Liou
MAUI OWIE
Twice have I been to Hawaii, and twice have I almost died there. If I didn't know any better, I'd say Hawaii is trying to claim me. I have fearful respect for her, and I cannot see her as she is depicted by the prevailing American imaginary: the vibrant Polynesian paradise covered in tropical fruit and prehistoric fauna. And even if I could, I'm allergic to pineapples.

The first time I went to Hawaii, I was a 2 year old infant. My father and my uncle wanted to vacation together with their young families, and because Hawaii was situated between Taiwan and the continental United States, Honolulu was a natural choice.

The story goes: I was on my father's shoulders in the ocean when a large and forceful wave swept me away. My brother, 9 years old at the time, remembers my mouth gasping for air before my head went below the surf again and again. Each time I re-emerged, I seemed further away from the beach. My uncle dived into the current and plucked me from the waters. I have zero recollection of this, or any part of the trip itself. I remember my sister's tantrum on the returning flight and arriving home with a tin of Pirouette cookies.

My siblings were eager to return twenty-five years later, and when deciding where to go for a family reunion, they suggested Hawaii.

I intuit some darkness whenever I'm in natural environments with the material memory of violent incursions. I imagine the ominous moodiness of Twin Peaks, of a forest desecrated, ceding to its basest powers. I got that feeling driving down Honoapiʻilani Highway, a narrow thoroughfare along Maui's western shore. One of our Uber drivers recounted stories of incarcerated ghosts from the Hale Paʻahao prison, night marching spirits, and leper colonies.


I recognized myself in the stories of hapless interlopers who vacated their newly purchased island homes after the visitation from a furious ghost, or the tourists who, having angered the gods by removing lava rocks, hastily mailed them back to the Big Island after tragedy befalls them at home.



The second time I almost died, I was biking down Haleakala after sunrise. For those not acquainted with the popular tourist attraction, the sun rising in the east over the 10,000 ft summit of Haleakala is a gorgeous, impossible sight. High above the clouds, throngs of tourists jockey for the best shot to capture the light peaking over the horizon and bathing the volcano in tangerine light. Bike tour companies then outfit tourists with mountain bikes, before they bike down the steep road.





Before venturing out, my family and I woke up in the middle of the night, drove east and up a series of switchbacked roads to summit of Haleakala. After a week of living in close quarters with my family, things were starting to fray. My sister and I got into an argument, and I was extremely tired after a night of not sleeping. I voiced an early concern about biking down the volcano, especially that an evening shower made the roads slick.

I was cold, hungry and tired, but after testing my bike brakes I felt somewhat confident enough to make my descent. I was thinking more about the regret I would feel if I turned down my chance to live a little, and set aside my insane hyper-vigilance for once.

I carefully descended the mountain, and it was spectacular two hour ride. I was about half a mile from the bike shop when I passed an intersection. I saw an approaching mail-truck, but even though I had right of way, the driver was barreling down the mountain, and I realized she might blast right through the stop sign. Upon seeing me, she slammed her brakes suddenly, causing me to react in kind. I found myself flying sideways and over my handlebars and crashing into the pothole laden road, my left knee bearing the brunt of the impact.

The postal worker was a woman in a pink tank top who denied any wrongdoing, saying that I "just slipped." A neighbor ran into the road to help me, and the postal worker tried to get her to sign for a package.

White ooze and blood started pouring out of my leg. I screamed and then, realizing that I did not have insurance, I wept like a child in the middle of the road. That's when I realized I couldn't move my leg without searing pain. My siblings, having caught up with me on their bikes, called an ambulance.





In the ambulance my mood could not be lower. It was New Year's Eve and the prospect of ringing in the new year by returning to an icy winter in Brooklyn and an hour long subway commute made me depressed, helpless. I was furious when thinking about the ambulance bill to Maui Memorial Hospital.

Legend has it that Maui lassoes the sun's legs, breaking them to slow him down. It seems, like, kinda violent, no?

My doctor, a poor man's Keanu Reeves, made finger-guns at me when he walked through the door.


"Let me guess, you wiped out on Haleakala! Got yourself a Maui Owie!"


"How did you know that?"

"Someone gets hurt everyday. I would say those bike tours should be banned, but — you know— people seem to get a lot of it."

Turns out the bike tours are a point of contention for locals who hate the crowded roadway, clogged with wide-eyed tourists.

The nurse came into the room to do my X-ray.

"This is really nothing," she said into my shattered knee. "At least you didn't get eviscerated like the last guy."

I almost respected the cavalier attitude in the face of my injury. I couldn't help to feel like the local contempt for the tourists manifested itself in a general maleficence towards those unfortunate to succumb to the dangers within its sandy shores. Playing chicken with newcomers at the intersections. I think about the hostess in a restaurant who became indignant when I complained about waiting for a golf cart, before giving up and ascending multiple flights of stairs with a freshly broken knee. I think about the knowing glances the bell boys gave to each other when I waddled around the resort lobby in my knee brace. It was almost as if, pointing to my crutches and throwing up a shaka sign, they were saying, "how about this for a souvenir, bitch!"

Hopped up on painkillers, I spent the remaining week of my vacation trying to relax into inertia, but I became increasingly upset at my injury, at Maui, and my own shitty hubris that led me to believe that I would leave the island as breezily as I had arrived.


I spent an entire day listening to Elena Ferrante audiobooks in an empty bathtub, nursing a bottle of wine.



To this day I feel an approach of motion sickness whenever I see images of Molokai on my Apple TV. When idle, the monitor displays high-res drone footage from cities, wandering around the world. The standby is a head-on shot of the slow approach of the small island off of Maui, blanketed with thick vegetation. My body reverberates with the memory of the agonizing claustrophobia of desperately needing to vomit in the helicopter and desperately trying not to.

Sometimes my family will suggest Hawaii as another potential family vacation.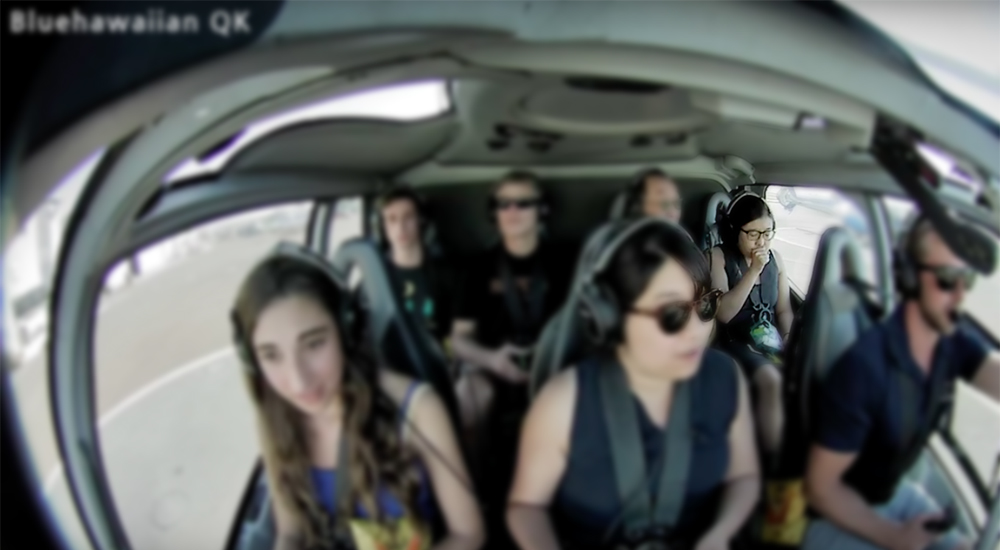 I'm good.