Drew Kahuʻāina Broderick
"Down on the Sidewalk in Waikiki"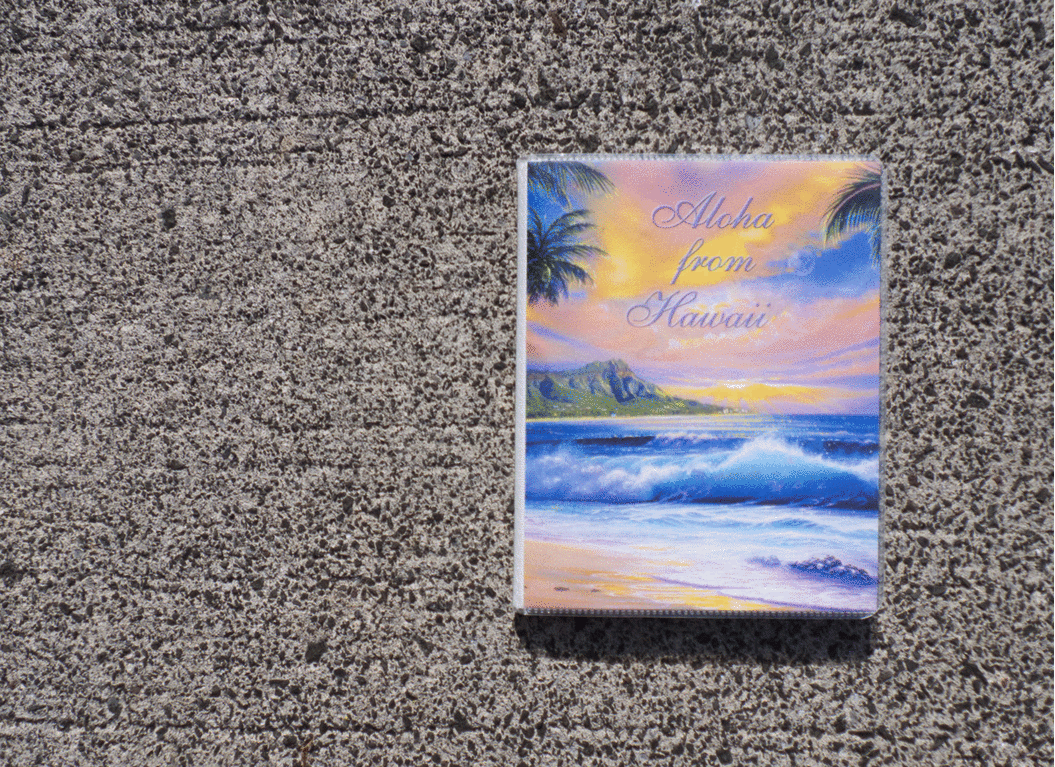 A brief account of the violent and exploitative origins of an imagined place of ideal socio-political perfection from Sir Thomas More's Utopia (Book II), first "published" in 1516:

"On the other side of the island [Utopia] there are likewise many harbors; and the coast is so fortified, both by nature and art, that a small number of men can hinder the descent of a great army. But they report (and there remain good marks of it to make it credible) that this was no island at first, but a part of the continent. Utopus that conquered it (whose name it still carries, for Abraxa was its first name) brought the rude and uncivilized inhabitants into such a good government, and to that measure of politeness, that they now far excel the rest of mankind; having soon subdued them, he designed to separate them from the continent, and to bring the sea quite around them. To accomplish this, he ordered a deep channel to be dug fifteen miles long; and that the natives might not think he treated them like slaves, he not only forced the inhabitants, but also his own soldiers, to labor in carrying it on. As he set a vast number of men to work, he beyond all men's expectations brought it to a speedy conclusion. And his neighbors who at first laughed at the folly of the undertaking, no sooner saw it brought to perfection than they were struck with admiration and terror."

Waikiki, a U.S. military-backed tourist destination, was constructed in all of its dystopian grandeur in 1928, after first digging a canal (the "polluted engineering marvel" known as the Ala Wai) to drain swamp lands and paddies—thereby separating it from the rest of Honolulu. The specter of More's fictional Utopia, along with its satirical promise of utopian vision, continues to haunt the imaginations of many urban planners—continental and archipelagic alike. That the actual "native" inhabitants (past, present, future) of these "no-places" and "nowheres" are forced into labor and alienated with relative ease is certainly not surprising. For what is any concrete Utopia—or Waikīkī for that matter—without total disregard?




From 1972 to 1973, while working as a janitor in Waikīkī, Wayne Kaumualii Westlake (1947–1984) wrote poems, in his words, "to keep from going insane…" In time, the works that emerged from his custodial labor (i.e. place-based practices of care) would come to constitute the collection, "Down on the Sidewalk in Waikiki (1972-1973)." I first read Weslake's words in a book of his poems, sourced from recovered manuscripts, edited by Mei-li M. Siy and Richard Hamasaki.1

In 2014, as a part of the exhibition Down on the Sidewalk in Waikiki: The Westlake Art Invitational, organized by Richard Hamasaki guys, I staged a performative intervention. The street performance involved 5 double-sided sandwich board signs. Befitting the title of the exhibition and the individual it was remembering, "Hōʻailona" took place on the sidewalk in Waikīkī at various locations between "The Wall" (on the Diamond Head end) and Fort DeRussy (on the Ewa end). Documentation was produced using a disposable camera purchased from the ABC Store on Kalākaua Avenue across from the Duke Paoa Kahanamoku statue. In addition to these snapshots, which were displayed in an "Aloha from Hawaii" photo album, what remained of the performance (4 double-sided sandwich board signs) was scattered throughout the shared exhibition space from June 20 to July 3.


1, 2, 3, Cheeeeeeeese!



Referred to as an "illegal protest" by HPD officers, "Hōʻailona" was quickly halted due to the fact that it "disrupted people and blocked pedestrian traffic" and that I did not "have a permit." (Or, at least, that's what I was told.)


"This is concrete poetry, free sidewalk readings," I said without hesitation, "inspired by Wayne Kaumualii Westlake."

"Who?" the HPD officers replied in unison.

"Wayne Kaumualii Westlake. You should check 'em out."

All in all I managed to get 4 out of 5 signs back. ALOHA FROM PARADISE/ALOHA FROM HELL was confiscated and, according to the kānaka who hauled it away, was to be thrown out with da rest of da rubbish. Amen to dat!

In the hopes of establishing concrete relations, what follows is a mixture of selected poems from Westlake's "Down on the Sidewalk in Waikiki (1972 to 1973)" and partial documentation of the street performance "Hōʻailona (2014)", which was in turn inspired by Westlake's poem "LOST" (included below). May our collective place-based struggles for poetic freedom continue to take root, give guidance, and embody care—as ancestors do—down on the sidewalk in Waikīkī and elsewhere,




CRACKED

HUNKS
of raw meat
down on the sidewalk
in waikiki
look to me
like something
OBSCENE!


but it's not
so STRANGE
in waikiki
where dirt's
expensive
and bricks
are cheaper
than rocks—
can't stand
to look at it
any longer
i get up
and FLEE
the MONSTER

WAIKIKI!

washing windows
dirty janitor sweats
clean tourist asks
"how do you get…"
before he's finished
tell him
EAT SHIT!
OUT OF MIND

to give my poems


BITE


i sit all day


down on the


sidewalk


in waikiki


watching the


PIG PARADE


limp by …
i watch them

the Pigs—


the Pigs,


they watch me—


it's enough to drive


any man


CRAZY


i write


i write


TOTALLY OUT OF


MY MIND
BLOOD STAINS

down


on the sidewalk


in waikiki


i look


like a Haole


but i'm not:


i got


ROYAL HAWAIIAN BLOOD!


really!


i got


but by now


it's probably


all gone:


seeing what's


going on


i BLEED


a lot


and no way


will

that


stop …

LOST


last night
in a dream
someone stapled
the sea
to my mind



it was my Badge:
i was invited
to a party!



all the lunatics
the sages
the madmen
of waikiki
were there



and the Kahuna
he was there
too, of course
the highest!
the happiest!
the guest of HONOR
all the others
lifting beers
around him
drinking!
laughing!
singing …



but that's
all gone now—
i woke up
lost
banished
down

on the sidewalk
in waikiki
looking
looking
can't see
THE KAHUNAS
ALL GONE!
tears sliding
down my cheeks
salting
my lips
my god!
what am i doing
where
am
i?




THEY GOT ME HANGING ALREADY


wasted

full moon's gone
and left me

lost and sick
like a lost
sick
dog …

dead dog
on the road

what's it mean?

should i SCREAM?

yesterday today
tomorrow
FOREVER all a
sad
sick
DREAM …


if i wore
a tie
i'd DIE!


nose up tight
they got me
hanging
already

feet dangling
down on the sidewalk
in waikiki

as the world
goes
spinning
by …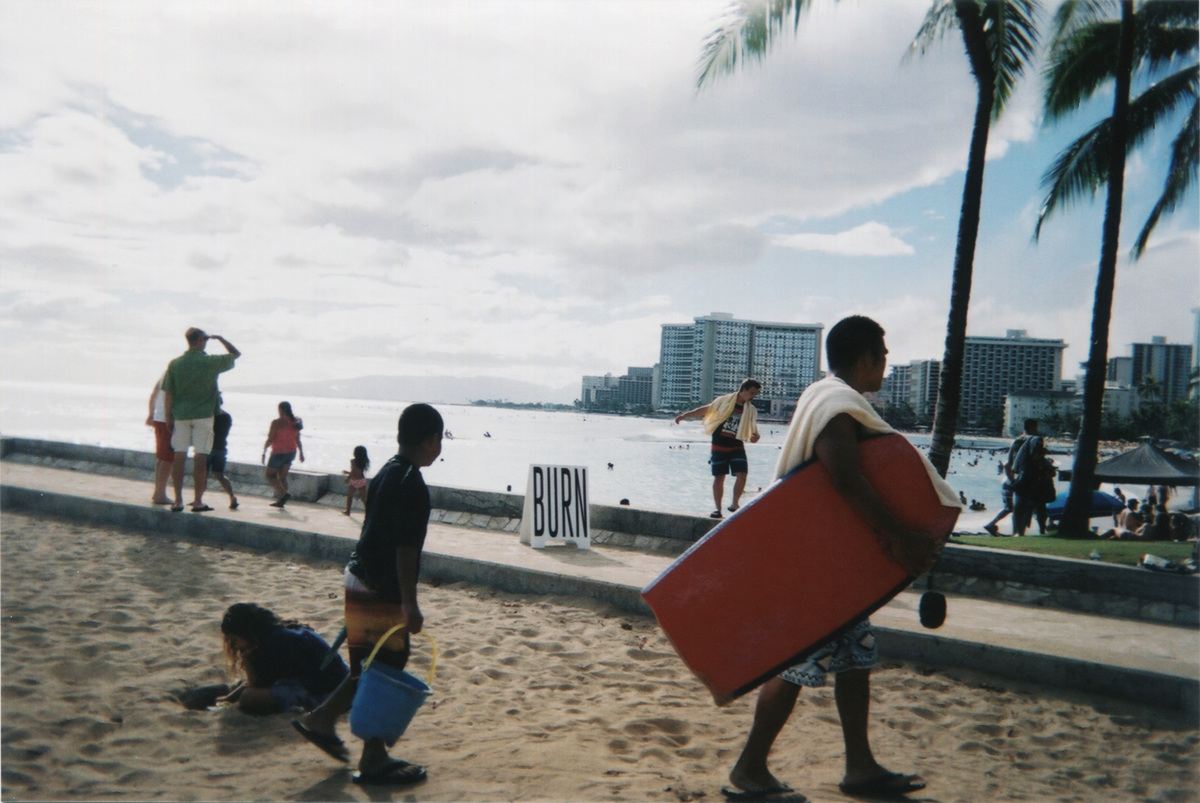 1 Westlake: Poems by Wayne Kaumualii Westlake (1947-1984), edited by Mei-li M. Siy and Richard Hamasaki, Talanoa: Contemporary Pacific Literature, University of Hawaiʻi Press, Honolulu, 2009, p. 138-169.